It was not long ago that the enterprise relied solely on the requisite software and spreadsheets for managing the business processes and workflow. This method, though traditional, was time-consuming, hence expensive, inefficient and flawed. In the midst of the complexity of running the company process that came at an exorbitant expense, an integrated system; something less cluttered, more obviously grew in demand to handle anything from distribution to human resources and financial management. Several companies are currently accepting Odoo ERP Development as a much faster solution to all of the problems as a result of this fact.
So, Odoo ERP is an extremely successful open source ERP platform that provides a range of business applications to tackle specific business problems, irrespective of which industry the firm belongs to. Odoo ERP also allows for the development of other specific modules with added functions for business applications, in addition to the above. The developer community within open source ERP is actively working to bring more clear modules, thus extending the flexibility and functionality of Odoo ERP. Hence the Odoo ERP is very capable of adapting in nature and very low cost of execution.
This blog you explore the benefits of Odoo ERP Development in your business.
The key advantage of preferring Odoo ERP is that there are no licensing fees for the base ERP. The base ERP can be further modified or tailored to fit specific business needs in the later courses.
Advantages of ERP for business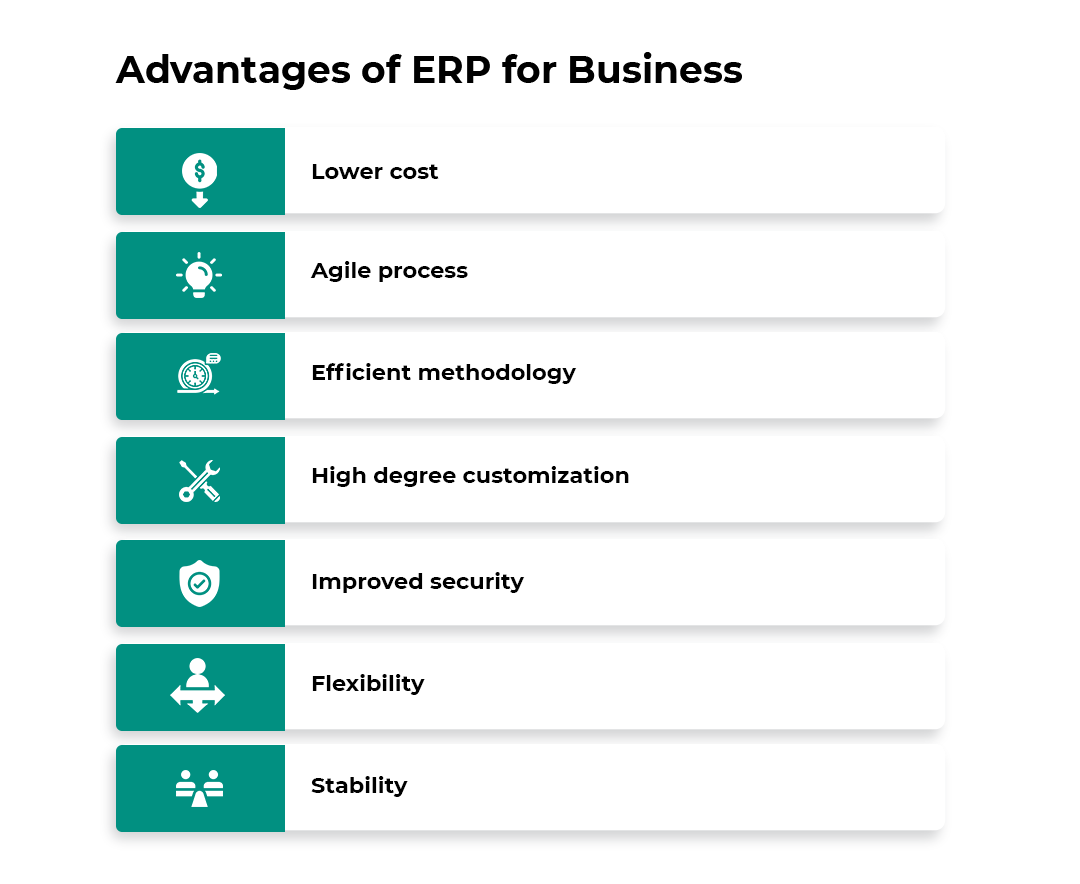 Benefits of Odoo ERP Development
The question of the purpose of ERP Software beyond definition is that we must understand the reasons why we need it. ERP Software aims at improving and developing expertise, streamlining company processes and fostering a culture of cooperation within the enterprise. The effect is a decrease in manufacturing costs and improves efficiency, leading to an outstanding bottom line. Below are some of the benefits of Odoo ERP Development. Let us have a look at its features as one by one.
Customization

Users will customize the application to meet business needs. Which is a custom-made concept, that provides unique characteristics in this competitive world for every company. The approach each company pursues can vary from each other. Odoo provides an extremely customizable concept that is truly an asset for businesses of all sizes.

Enhance efficiency

Under ERP policies business processes such as sales, inventory, marketing, and production are integrated. Collecting data and knowledge in the company as well as accessing it is informal, rationalizes cross-departmental roles across various channels. ERP thus systematizes everyday activities such as physical access and data entry or the creation of business reports.

Speed is not a problem

With Odoo ERP, users needn't worry about any delay. The pleasant experience with faster response time and easy menu access can be achieved as a result of the load time for browsing pages is low. In addition to accuracy, Odoo ERP's flexible solutions help improve the performance of the website with its fast features. Users will benefit from reduced completion time for the task and make efficient use of the time saved.

Lower production cost

Odoo ERP is good in your pockets and helpful when budget restrictions are put. Getting an efficient Odoo ERP platform allowing manufacturing, customer service, engineering, and additional business processes to operate in harmony leveraging actual data and knowledge, solving unexpected challenges is fast. Operating costs are therefore kept within budgets.

Easiness of integration

When comparing to other complicated ERP software that faces issues with business processes and data consistency, configuring Odoo is an efficient or easier task.

Modules

Odoo ERP, produced on a modular structure, thus allowing separate modules to handle different processes or functions. More than 1000 and more modules are available on the platform and this makes Odoo ERP production a valuable specialty.

Universal software

Odoo ERP is designed for the management of many company needs. Consequently, it can flawlessly incorporate any operations needed to boost the overall efficiency of the company. The great thing about the application Odoo ERP is that it is compatible with any job settings.
No doubt, Odoo ERP Development is a breakthrough in how companies and industries handle their own jobs and other business processes. It is true that change is painful, but not with Odoo ERP. The application is here to replace conventional and repetitive data production and communications approach with a simple suite. There is no question that every company is searching for something new, and Odoo ERP development offers company-specific solutions here. Odoo is the perfect software with professional workers, equipping each organization with various modules or supplements, as needed.